SOLAR PUMP SYSTEMS
We have an affordable solution for off-grid properties located in the middle of nowhere without power. San Juan Pump Company uses Grunfos Solar System Products and Franklin-Electric Solar System products. If you are unsure which Solar Pump System is best for your project, give us a call at (970) 275-2628.
Features:
Lowest cost of any remote watering system

Rugged Stainless Steel Design

Liquid Cooled and Lubricated Motor

Long Life Brushless DC Motor

Lifts Of Up to 900 Feet!

Flow Rates of up to 60 Gallons Per Minute!

Warranty Varies On the Brands

Variable Flow Rate Control

Triple Sand Seal for Extended Life

Extremely Efficient Lower Power only 1 to 4 Amps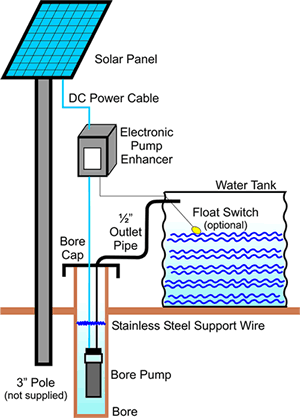 Generic Diagram. May differ depending on which system you use.
EXCAVATION
San Juan Pump Co. offers excavation services. We make living off-grid possible and convenient. We do all the dirty work so you can have clean water!
Just to name a few, we run:
Water Lines

Conduit

Control Lines

Spring Development

Cistern Tank Service and Installation
IRRIGATION & SUBMERSIBLE
San Juan Pump Co. installs Submersible Pump Stations, Irrigation Pumps, and Booster Pumps for your home or off-grid property. Our popular VFD (Variable Frequency Drives) Pumps are used for constant pressure and energy savings. We use Franklin-Electric brand for our Submersible Pumps – which includes a 5- Year Warranty.
We Install:
Spring Development

Water Catchment Systems

Hand Pumps

Windmills
WATER WELLS
San Juan Pump Co. specializes in Well Services in Western Colorado. With so many rural areas in these parts, it's important to have a company you trust for all your water well needs.
We Handle:
Well Drilling

Well Production Testing

Well Cleaning and Rehabilitation

Well and Pump System Inspections for Real Estate Transactions